Nonprofits
Overview
For charitable organizations, putting ideas into motion takes funding. The Community Foundation of Southern Indiana is dedicated to helping nonprofits improve the quality of life in our community.
The information below will help our nonprofit partners better understand the resources available to them from the Community Foundation as well grant opportunities that can help them serve our region.
---
United Community
United Community is a community-wide initiative to deploy an innovative shared technology platform to initiate and close referrals across many organizations. It reduces barriers to access for citizens by streamlining navigation across the multitude of services offered by our health, education and human services sectors.
---
Competitive Grants
The Foundation's unrestricted endowment (our Community Impact Fund) welcomes applications and project proposals from nonprofit and charitable organizations through the Community Grants Program. CFSI wants to help these nonprofit organizations fulfill their mission and meet the needs of our community by accepting grant requests and making the application process open all year. Reading our Tips for Grant Writing is a great place to start.
---
Community Assist Grants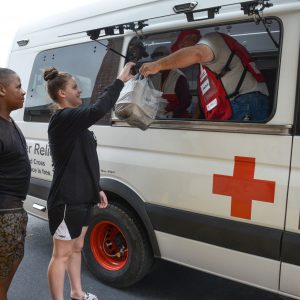 To better suit the needs of our community and provide more impactful grant making, organizations can apply for a Community Assist Grant. Community Assist Grants are for support of a program or activity through a one-time grant with a grant value of $1,000-$5,000. Click here for a great example of an Assist Grant project. The Foundation intends for Assist Grants to be available for any focus area but support a program or activity through that will positively impact the lives of people living in Clark and Floyd counties. Nonprofit organizations that have questions about the appropriateness of a proposed request can contact Crystal Gunther, Sr. Director of Community Philanthropy, at cgunther@cfsouthernindiana.com.
---
Pathways to Progress Grants
The Foundation's Pathways to Progress Grants will focus on serving people with the least access to safe, high-quality public places and amenities, typically those who have low incomes and/or who have transportation or mobility challenges or physical and/or mental differences. When their lives are improved, our communities are more welcoming and attractive to all residents, tourists, and employers.
---
Youth Philanthropy Council Grants
Annually, the Foundation's Youth Philanthropy Council (YPC) awards grants to nonprofits who focus on youth related activities and with programs or projects that benefit the youth of Clark and Floyd counties.
---
Emergency Grants
If you represent a charitable organization and you wish to apply for an emergency grant, you will need to review the Emergency Grants section of the Foundation's Grant Policy and Guidelines and then complete an Emergency Grant Request online.
---
Dates to Remember
Grant application periods will be open all year round with quarterly deadlines and awards, allowing an organization to apply for grants to fulfill their needs when the time is right for them.
---
Tips for Grant Writing
If you're interested in applying for any of the Foundation's grants, we recommend reviewing our Tips for Grant Writing page.
---
Community Needs Assessment
Nonprofits considering applying for a grant from CFSI should study the Foundation's Community Needs Assessment to ensure their grant would address a community need. In 2015, CFSI surveyed Clark and Floyd county residents, nonprofit community service organizations, business and community leaders, and our own fund holders to develop strategic community goals based on needs and priorities. The 2020 Assessment of Needs and Priorities in Clark and Floyd Counties – known as the Priorities for Progress: Assets and Aspirations in Southern Indiana 2021 – explores the community's aspirations for building on its assets to address the area's highest priorities and greatest challenges. This report is helping the Community Foundation of Southern Indiana focus our grant making from the unrestricted Community Endowment Fund to directly address the greatest needs of our region as identified by our community's residents, businesses and community leaders, and nonprofit service providers.
Click here to learn more about the Community Needs Assessment.
---
If you have questions about the Foundation's grant program, please contact Crystal Gunther, Sr. Director of Community Philanthropy, at 812-948-4662 or cgunther@cfsouthernindiana.com.