Community Foundation Investing $100,000 to Support Affordable Housing in Jeffersonville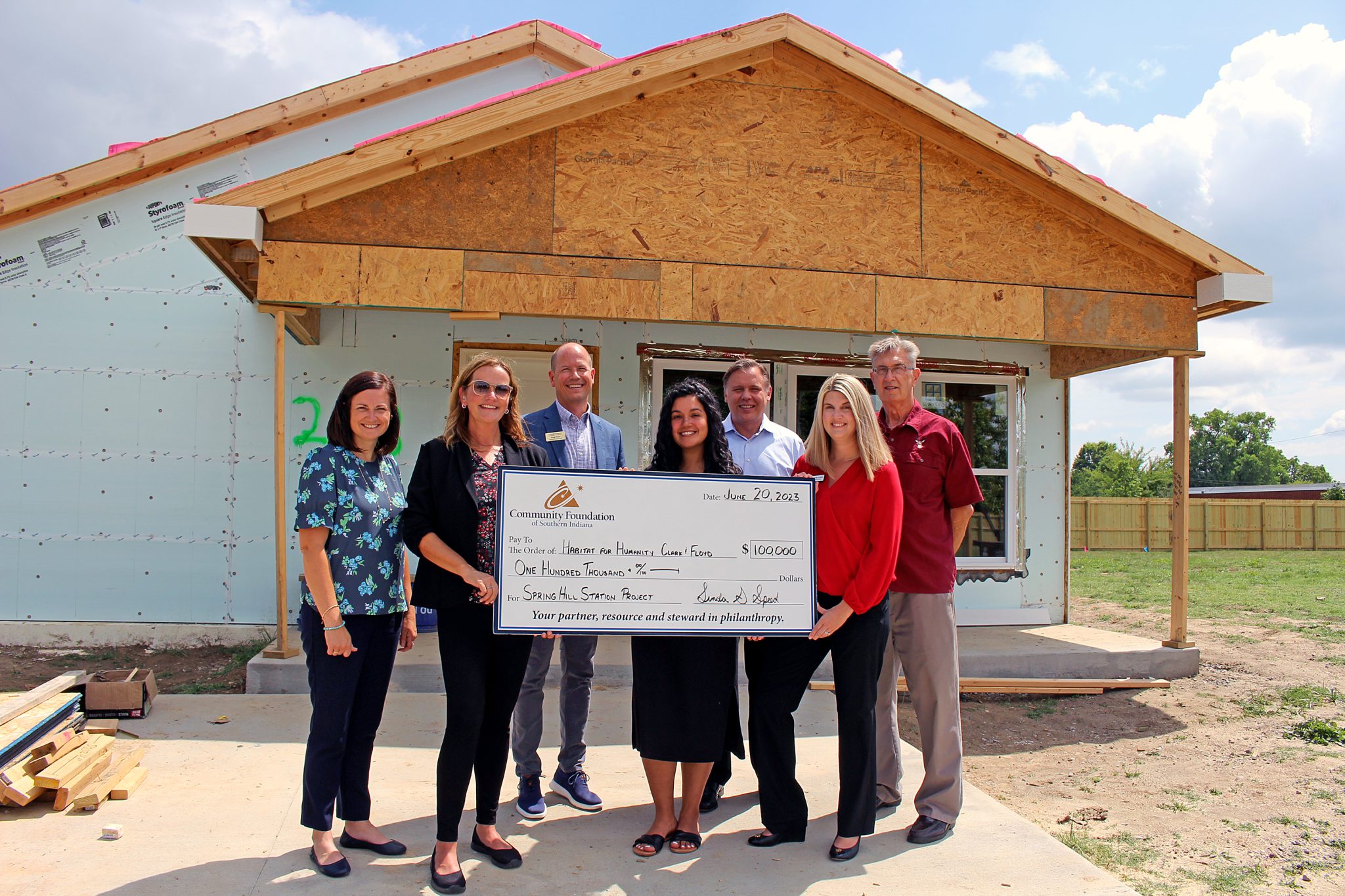 Grant to Help Fund Habitat for Humanity's Spring Hill Station Project
NEW ALBANY, Ind. – Residents of Claysburg neighborhood in Jeffersonville will soon be welcoming a new community of neighbors – thanks, in part, to a $100,000 grant from the Community Foundation of Southern Indiana (CFSI).
The discretionary grant – which comes from CFSI's Community Impact Fund – will support Habitat for Humanity Clark & Floyd Indiana's Spring Hill Station Project. Located near 12th and Riddle St. in Jeffersonville, the 11-home cul-de-sac will be comprised of financially educated, invested, and empowered families, most of which will be new homeowners for the first time in their lives.
Linda Speed, president and CEO for the Community Foundation said, "The lack of available affordable homes in Southern Indiana is a major issue affecting our residents, their quality of life, and their hopes of creating wealth for their families. We hope this project will pull families in the Claysburg neighborhood out of the rental vortex, put them into affordable housing, and begin building generational wealth."
Nicknamed the Spring Hill Station 11, Habitat for Humanity began construction on the first five homes in May 2023, with a goal to finish the complete 11-home project by 2025. Thanks to its partnership with the Jeffersonville Housing Authority, these homes will serve up to 19 adults and their children.
"We are so grateful for the support of the Community Foundation of Southern Indiana in the Spring Hill Station project," says Jackie Isaacs, Executive Director of Habitat for Humanity Clark & Floyd Indiana. "Building high-quality, affordable housing is not possible without backing from the community. Every grant, volunteer hour, donation, and in-kind support we receive helps us reach our goal of building a vibrant, invested community in Claysburg. This grant will help to, literally, lay a foundation that will not only transform our lives, but will also breathe new life into this community."
Since 1991, the Community Foundation of Southern Indiana has awarded more than $3 million in grants from the Community Impact Fund. Those projects focus on the region's greatest needs, including improving quality of place and life, building and attracting living-wage jobs, and providing affordable access to housing, healthcare, and more.
For more information on the Foundation's Community Impact Fund or more details on this project, please visit www.CFSouthernIndiana.com.